The U.S. Track and Field teams are ready to go as the 2012 Summer Olympics in London are approaching. As the U.S. Olympic Trials wrapped up on Sunday (with the exception of Allyson Felix and Jeneba Tarmoh's controversial tie-breaker for the final spot in the women's 100-meter, which is set to go down Monday night), fans saw flashes of greatness from many athletes who made their U.S. teams.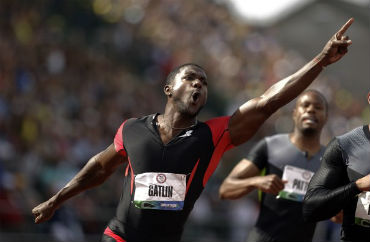 In men's track, Leo Manzano, 27, won the 1500-meter title this weekend, while Tyson Gay showed everyone that he is back to his old self after having hip surgery just about a year ago. He finished 2nd in the 100-meter and will be joined by Justin Gatlin, Ryan Bailey, Doc Patton and Walter Dix, who won the bronze last time around in Beijing.
For men's shot put, it will be Reese Hoffa, who won the trials, Ryan Whiting and Christian Cantwell, while Lance Brooks, Tony Mcquary and Bryshon Nellum will hold it down for the men's discus team in the 2012 Summer Olympics.
Wallace Spearmon, the 200-meter winner and 400-meter winner (and defending Olympic champion) Leshawn Merritt will also be packing their bags for the 2012 Olympics in London, in addition to long-jump winner and University of Texas wide receiver Marquise Goodwin.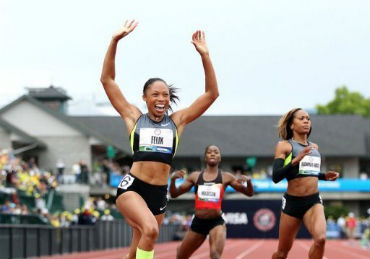 On the women's side, there is much for U.S. Track and Field coaches to be excited about. The impressive Morgan Uceny earned her first Olympic team berth after winning the 1500-meter title and will be accompanied by Shannon Rowbury, who is making her second Olympics appearance.
Other women who made the 2012 U.S. Track and Field squad include Ashton Eaton, Sanya Richards-Ross (former world 400 m champion), Francena McCorory in the 400-meter, 200-meter winner Allyson Felix and Carmelita Jeter, the fastest woman alive and defending world champion on the 100-meter.
In the women's high jump, it will be Chaunte Lowe (1st place in trials), Amy Acuff and Brigetta Barrett. What makes this group interesting is the fact that Lowe and Acuff have both given birth to a child over the past few years, yet they somehow managed to their bodies back into prime form for the 2012 Olympics.
Other female athletes set to appear for the U.S. in the 2012 Olympic Games are Emma Coburn and Shalaya Kipp for the steeplechase, Brittney Reese for long jump (won trials for event) Tia Brooks for shot put and pole vault winner Stephanie Brown-Trafton.
The U.S. Track and Field teams look very strong heading into the 2012 Olympics in London and could both be poised to make history considering the talent pool they're working with.