U.S. Women's Gymnastics Competition Online
As the 2012 U.S. Olympic trials continue on through the weekend, both the men's and women's gymnastics teams appear to be loading up with superior athletes. Though it is yet to be determined who all will be joining each five-person team in the 2012 Summer Olympics in London, England, there are plenty of positive signs across the board for the men's and women's gymnasts.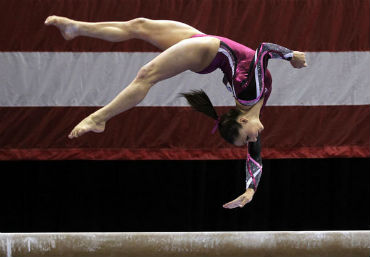 The women's gymnastics competition picks back up tonight live on NBC from 9-11 pm EST, but you can watch free streaming coverage online as well, thanks to sites like FreeCast.
Leading the way for the U.S. Women's Gymnastics Team is 16-year-old Jordyn Wieber, who won the all-around women's title last year in Tokyo, as well as her second consecutive U.S. all-around title in St. Louis, Missouri earlier this month.
She has not lost in all-around competition since her senior debut last gymnastics season. Wieber is quite a sight to watch in the 2012 U.S. Olympic Trials, so be sure to stream free online coverage of tonight's competition if you aren't able to watch it on NBC.
Fellow 16-year-old gymnast Gabby Douglas has also been impressive to watch, as she continues to give to provide Wieber with some tough competition tonight in the women's gymnastics competition tonight on NBC, while streaming coverage is also available for free online.
Of course, viewers will also want to be sure to watch Nastia Liukin, Alicia Sacramone and McKayla Maroney among others, as they all compete for one of five spots on the U.S. Women's Gymnastics Team. Liukin, 22, was the 2008 all-around champion, while Saramone served as the team's captain in Beijing the last time around. She has looked strong so far, showing no lasting effects from the torn Achilles she suffered back in October.
Maroney, the world's reigning vault champion is also looking to earn her spot on the U.S. women's team as 2012 Olympic trials for gymnastics continue tonight on NBC, with full streaming coverage available online.
On the men's side, Sam Mikulak looks to stay hot after earning the highest score (91.80) on opening day of the 2012 U.S. Olympic gymnastics trials in the men's competition last night.
Coverage of the men's gymnastics Finals will begin Saturday at 4 pm EST on NBC, in addition to being available to stream free online.
You won't want to miss any of the 2012 U.S. Olympic Trials before the teams are officially named, and the athletes prepare for the 2012 Summer Olympics in London.
Be sure to get online and start streaming coverage of all the 2012 U.S. Olympic Trial events, absolutely free.