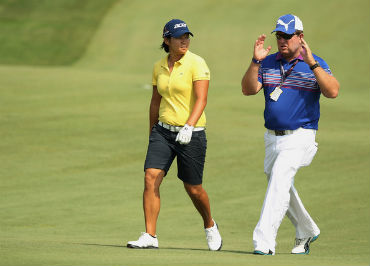 The first round of the 2012 U.S. Women's Open continues at 4pm EST on ESPN 2, but you can also watch free live streaming coverage of U.S. Women's Open online.
Starting the day off at the top of the leader board is Beatriz Recari, who is currently two under. Just behind her at one under are Jimin Kang, Wendy Ward and Azahara Munoz.
Meanwhile, No.1-ranked Yani Tseng looks to get back to being her normal self as she prepares to tee off for the first time in the 2012 U.S. Women's Open. Tseng, 23, has won five majors already in her career, but has struggled as of late, with her last LPGA title coming back in March. Watch her try to get back on her feet when the 2012 U.S. Women's Open picks back up at 4pm EST today on ESPN 2 in addition to streaming live online.
Among other interesting names to watch out for as the 2012 U.S. Women's Open streams free live coverage online today are 2008 U.S. Women's Open champion Inbee Park, Shanshan Feng who won the LPGA Championship last month and Brittany Lang, who just earned her first LPGA victory in the Manulife Financial LPGA Classic on June 24.
Juli Inkster and Mika and Ai Miyazato (not related) are also in the mix for the 67th U.S. Women's Open, as all three women have been playing great golf on a consistent basis.
Be sure to watch live streaming coverage of the 2012 U.S. Women's Open for free when it begins at 4pm EST today, using FreeCast's LIVE streaming coverage guide.