The 2012 UEFA Euro Final ended in dominating fashion on Sunday as Spain defeated Italy 4-0 at Olympic Stadium in Kiev, Ukraine to become the European Champions.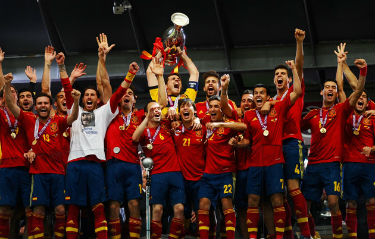 After David Silva headed in the first goal off a Cesc Fabregas pass in the 14th minute, the match slid further and further into Spain's favor.
Jordi Alba knocked in another one in the 41st minute, thanks to an outstanding pass from Xavi and the match was all but over as Spain's confidence was sky-high and the fans continues to erupt.
Spain, partially criticized for not being the most exciting team to watch, silenced critics on Sunday with their superior defense and ball movement. Their strategy of playing keep away from the opponents with continuous short passes (nicknamed "tiki taka" by the Spanish media) flustered the Italy team from the get go as they failed to scored a goal in the 2012 UEFA Euro Final.
The Spain team added some extra security to their lead with a goal from striker Fernando Torres, who came on for Febregas, in the 75th minute. He then contributed to Spain's fourth goal in the 88th minute with an assist to the speedy midfielder Juan Mata, who delivered the dagger to Italy. All Italy could do was sit back and watch as the Spain's brilliant team hogged the ball for most of the match and scored an uncharacteristic four goals.
With Sunday's European Championship win, Spain became the first team to ever stage a triple-run, after taking the World Cup crown two years ago in South Africa and the Euro trophy in 2008 as well.
Spain has now become a dynasty in the soccer world after wiping the floor with Italy in the 2012 UEFA Euro Final. All that talk about the team being boring to watch has been abruptly silenced, as fans and sports critics have no choice but to be astonished by what Spain has accomplished in recent years.