USC at Utah College Football Game Live Online
Live streaming coverage of Utah vs USC begins Thursday night at 9pm ET.
(Live coverage of USC vs Utah college football game may require authentication.)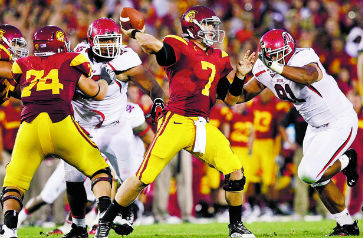 After starting the NCAA college football season at the very top of the rankings, the USC Trojans have dropped to No. 13 in recent weeks. That decline in the rankings was mostly the result of an upset loss to Stanford in week three and on Thursday, USC will look to avoid another upset when they travel to Salt Lake City to take on the Utah Utes.
College football fans will be able to watch USC at Utah live online for free as soon as the game gets started at 9pm ET as the Trojans look to work their way back up in the NCAA football rankings.
To watch USC at Utah online live, absolutely free, just visit FreeCast and head to our Live Events page. There, you'll find a direct link to the USC vs Utah live stream which you can click on to start watching the Trojans vs Utes college football game live online.
The Trojans bounced back from their loss against Stanford with a 27-9 win over California in their last game at home. In that game USC quarterback Matt Barkley threw for 192 yards and two touchdowns, giving him 1,005 passing yards and 12 touchdowns already on the year. Wide receiver Marqise Lee has brought in six of those touchdowns to go along with his 40 receptions for 457 yards. Watch USC at Utah live online for free as Barkley and Lee look to take the game over through the air.
The Trojans could very easily run away with this one considering Utah has struggled a great deal on offense since former Utes quarterback Jordan Wynn suffered a career-ending shoulder injury in early September. John Hays has been the guy behind center since and has struggled to lead the offense down the field.
Utah is averaging just 298.3 yards of total offense per game, while the Trojans are averaging over 400 yards through their first four contests. Be sure to watch Utah vs USC live online, absolutely free to see if the Utes can finally get something going on offense.
Also watch out for USC's Silas Redd as he leads the Trojans rushing attack against Utah. Redd has rushed for 338 yards on 58 carries (5.8 YPC) and four touchdowns while the Trojans No. 2 running back Curtis McNeal has added another 225 yards on the ground. Carrying the rock for Utah will be John White, who is averaging just 3.8 yards per carry. Watch Utah vs USC live online with FreeCast as the Trojans look for another dominant performance on offense.
For free live streaming coverage of the USC vs Utah college football game, remember to visit FreeCast's Live Events page. There, you'll find live a stream link for Utah vs USC as well as several other great college football matchups over the weekend. Don't miss this opportunity to watch USC at Utah live online for free.
Don't have a computer? No worries. You can just watch Utah vs USC online live through your tablet or mobile device.