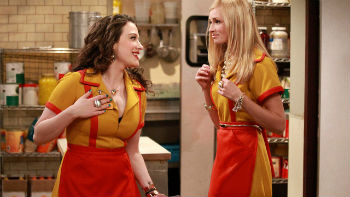 CBS' hit comedy series '2 Broke Girls' is about two young women who form an unlikely friendship while working together at a Williamsburg Diner. They come up with their own business venture involving delicious cupcakes and begin saving all of their tip money to try and get the ball rolling.
'2 Broke Girls' stars Kat Dennings and Beth Behrs as Max Black and Caroline Channing, respectively. Max is sassy and street smart while Caroline is a sophisticated uptown trust fund princess who, after running into some bad financial luck, finds herself working at the diner.
The new season of '2 Broke Girls' began on September 24 at 9pm ET on CBS and new episodes from the second season are already available to watch online for free at FreeCast. Just visit our Online Channel Guide to watch free episodes of '2 Broke Girls' online, along with thousands of other TV shows.
There's no reason to be restricted to watching '2 Broke Girls' on Monday nights only. Just visit FreeCast to watch new and old episodes of '2 Broke Girls' online for free. Full episodes of '2 Broke Girls' and all other TV shows become available to watch online at FreeCast the very next day after they premier.
You can even watch '2 Broke Girls' episodes online for free through your tablet or mobile device.
[iframe width="97%" height="480″ src="http://www.youtube.com/embed/JgXLyhm-pBU"]