(Second Round coverage begins Friday April 27 at 6:30pm EST)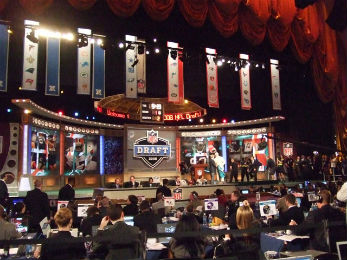 The 2012 NFL Draft is only a few hours away, and football fans around the world are clearing their schedules for the next three days in anticipation. Sure, some might say that watching the entire draft is about the equivalent of watching someone play the scratch-off lottery for hours on end, but they don't understand.
For true NFL fans, these three days of watching the 32 NFL teams draft one collegiate athlete after another at the pace of a slightly encumbered snail is one of the greatest events in the world of sports.  Maybe it's because we have false hope that this year's draft will finally turn things around for our team, maybe it's because football hasn't been on TV for three months, maybe we just love Mel Kiper.
(coverage begins Thursday April 26 at 7:30pm EST)
Whatever it is, there's nothing like the NFL Draft, and in 2012 NFL.com is making it easier than ever to catch the action by providing live online coverage of the entire draft.  That's right, the whole thing. This means that those of us who won't be able to stay in front of a TV for the whole draft will still be able to watch every minute of the action live online.