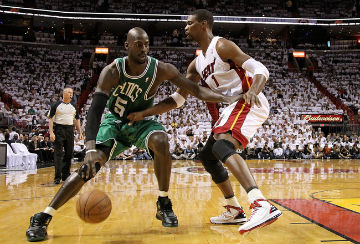 In last year's NBA Playoffs millions around the world watched live as the Miami Heat, with its newest addition of Lebron James, took on the Boston Celtics in the NBA Eastern Conference Semifinals. While the Boston Celtics' Paul Pierce, Kevin Garnett and Rajon Rondo put up a valiant fight, they were beat out by the Miami Heat in just five games.
Now, just over a year later, the Miami Heat and Boston Celtics are set to battle it out again, but this time it's the 2012 NBA Eastern Conference Finals on the line. This will be the fifth time in seven years that either Boston or Miami will be winning the Conference Championship, with Game 1 kicking off Monday night.
A Celtics-Heat conference matchup means basketball fans around the country will be tuning in to watch every game of the series, but what about those of us who can't watch on TV?  Luckily, the NBA, TNT, ABC  and ESPN are making it easy to watch every game of the 2012 NBA Playoffs online, which means you can watch live streaming coverage of every Boston Celtics vs. the Miami Heat game online, for free!
Click Here to Watch LIVE Coverage of tonight's Boston-Miami Game Online!
But where can you watch the Heat-Celtics games live online, you ask?  Well, freecast.com is here to help guide you to live coverage of every game with our NBA Playoffs LIVE Streaming Game Guide. Simply log-in or register (absolutely free) to get instant access to our online game guide, which will point you to the best source for watching tonight's Boston vs. Miami game.
You can also find links to the latest Spurs-Thunder game, and when Finals roll around we'll still be here to help you make the most of your online viewing experience.
Check out our NBA Finals Heat Thunder Streaming Game Guide here .
So, who will you be rooting for, the Miami Heat or the Boston Celtics?  Let us know by leaving  a comment below.