Live streaming coverage of Electrified begins Friday, Oct. 5 at 7:30pm ET.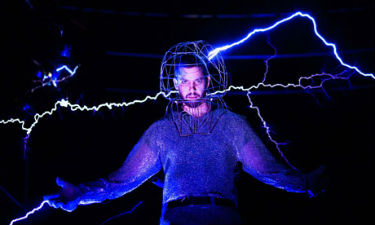 Master illusionist David Blaine is out to shock the world yet again, literally. On Friday, October 5 Blaine will stand at the top of a 20-foot-high pillar at Pier 54 on New York's West Side and attempt to remain there for 72 hours while being hit with 1 million volts of electricity.
The stunt event has been titled 'Electrified: One Million Volts Always On' and will be streamed live online through YouTube. However, you can also visit FreeCast to watch 'Electrified' live online for free from the moment David Blaine begins electrocuting himself.
Blaine will be wearing a chainmail body suit to provide a barrier between him and the electric currents, as well as a wire helmet, a visor to shield his eyes and something to protect his ears. Tesla electrical coils will fuel the electric charge running through Blaine's body suit and viewing stations will be set up in London, Beijing, Tokyo and Sydney, Australia so spectators can take turns controlling the electrical coils. Watch 'Electrified' live online for free with FreeCast to see if Blaine can make it through the full 72 hours as planned.
In preparation for 'Electrified', Blaine has been fasting so he won't have to worry about storing any bodily waste other than urine. He will also have a tube for drinking water and one to dispose of it. If Blaine makes it through the entire three days and nights it would be arguably his greatest stunt yet. And who knows maybe Blaine will turn blue and develop super powers like Dr. Manhattan in Watchmen. Or maybe he'll go all Doctor Doom on us. Watch 'Electrified' live online for free to see what effects the electricity has on Blaine's body.
'Electrified' will be streaming live online beginning Friday, October 5 at 7:30pm ET and you'll be able to watch the three day stunt live online with FreeCast. Just visit our Live Events page and click on the link for the 'Electrified' live stream to begin watching David Blaine get electrocuted.
Blaine has performed some amazing stunts in the past, most of which require an incredible amount of endurance. On Friday, he'll try to top all of those stunts when 'Electrified' streams live online. Make sure you watch 'Electrified' online live for free as Blaine looks to shock the world once again.
If you don't have a computer, you can also watch David Blaine's 'Electrified' live online for free through your tablet or mobile device.