Live coverage of New York at Philadelphia Sunday Night Football begins Sunday at 8:20pm ET.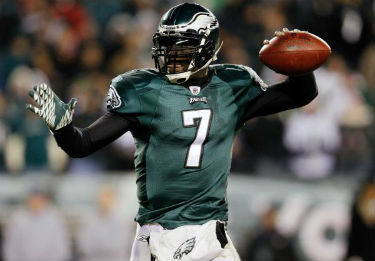 Michael Vick will have to refrain from turning the ball over and the Philadelphia Eagles offensive line will have to do a better job at protecting him if Andy Reid's team wants to pull off a win over the defending Super Bowl champion New York Giants on Sunday night.
The NFC East rivals will square off at Lincoln Financial Field in Philadelphia for NBC's Sunday Night Football and with the help of FreeCast, football fans will be able to watch Philadelphia vs New York live online for free.
NBC's Sunday Night Football matchup between the Eagles and the Giants will start at 8:20pm ET, with live streaming coverage of the game being made available to watch online with FreeCast. Just visit our Live Events page to watch the Eagles vs Giants live online for free Sunday night.
Despite the fact that the Eagles have been plagued by turnovers early on in the 2012 NFL season, they still have a respectable record of 2-1. Philadelphia quarterback Michael Vick has thrown six interceptions and lost three fumbles to contribute to the Eagles' league-high 12 turnovers this season, though much of the blame should fall on the offensive line.
Vick has been getting knocked around constantly since week one and was sacked five times last week in a loss at Arizona. Watch the Eagles vs Giants live online for free to see how Vick and Philadelphia's offensive line fare against the quick and ferocious defensive line of the New York Giants.
Giants quarterback Eli Manning has been in superb form in the early NFL season, throwing for 1,011 yards and five touchdowns already to just three interceptions. He led New York to an impressive come-from-behind win over the Bucs in week two and the team followed up that win with a 36-7 trouncing of Cam Newton and the Carolina Panthers on Thursday Night Football last week. Watch the Giants at Eagles live online for free as Manning tries to lead New York to its third straight win.
The Giants will be getting starting running back Ahmad Bradshaw back when they travel to Philadelphia but wide receiver Hakeem Nicks is likely to miss a second-consecutive game with a lingering foot injury. When Philadelphia vs New York streams live online, watch out for Giants receivers Victor Cruz, Ramses Barden and Domenik Hixon as well as tight end Martellus Bennett, who has scored a touchdown in each of New York's first three games.
The Eagles expect to have wide receiver Jeremy Maclin back the field this week after he missed last week's game with a hip injury. Between Maclin, Desean Jackson and tight end Brent Celek, Vick should have plenty of talented receivers to throw the ball to on Sunday. Philadelphia will also look to get star running back LeSean McCoy going early to set up the play action. Watch the Eagles vs Giants online live with FreeCast as Vick leads Philadelphia's offense out onto the field for this NFC North matchup.
Defensive players to watch out for on Philadelphia when the Giants at Eagles NFL Sunday Night Football streams live online include defensive ends Trent Cole and Jason Babin, linebacker DeMeco Ryans and cornerback Nnamdi Asomugha. On the Giants, watch out for defensive linemen Justin Tuck, Osi Umenyiora and Jason Pierre-Paul.
Remember to visit FreeCast to watch the Giants at Eagles live online for free in the fourth installment of NBC's Sunday Night Football. Just click on the link to our Live Events page to get to find the Eagles vs Giants live stream.