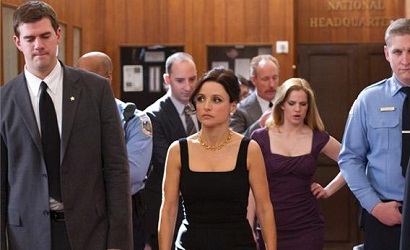 This Sunday (10pm EST), HBO subscribers around the country will be watching the pilot episode of 'Veep', a new comedy starring Julia Louis-Dreyfus (of 'Seinfeld' fame) as the vice president of the United States.
If you're one of the millions without an HBO subscription, however, you may wonder how this applies to you. Well, luckily for you, the premium cable network is giving anyone with an internet connection the opportunity to watch the 'Veep' premiere episode online…for free.
(available beginning Monday, April 23)
As was the case with their 'Girls' pilot last week, HBO's pilot episode of 'Veep' will be offered for free online via multiple free online viewing platforms, including HBO.com and Dailymotion (among others).  The episode will be available for free online from April 23 (the day after its HBO airdate) until May 21.

As you may have guessed, HBO is using this as a way to entice non-subscribers into joining the premium network bandwagon, and if the results of the freely available 'Girls' premiere is any indication, their plan should be pretty successful.
While only 'Veep's pilot episode will be available online for free during this time, those with an HBO subscription will have the ability to watch every episode of the series online through HBO GO, the streaming online video platform provided by the network.
Will you be watching the 'Veep' premiere? Will you be watching it online?  Let us know by leaving a comment.