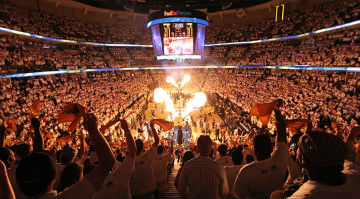 It's a great time to be an NBA fan. With the Playoffs fully underway, every night holds the promise of excitement as the league's best teams square off for a chance at the biggest stage in basketball, the NBA Finals.
With so many big games to watch, chances are you won't always be able to get in front of a TV to catch the action. Luckily, the NBA, ESPN and TNT are offering fans a way to watch Playoff games live online…for free. With TNT Overtime, you can stream any Playoff game aired on TNT as it happens. You can even choose from multiple camera angles to watch the game exactly how you want to. For those games aired on ESPN, live coverage is available through ESPN 3.
Too complicated? At FreeCast, we make it easy to keep track of where to watch every game, with constant schedule updates and links to the current live feeds. Just log-in or register (it's free) and refer to our NBA Playoffs Streaming Game Guide to find out exactly where to go to start watching live games.
Click Here to find out where to watch tonight's Playoff Game LIVE online for free.
This is an ideal solution for cord cutters who have decided to ditch their cable bills in favor of free online entertainment. No longer do you have to hassle your neighbor or hang out at the local bar to catch the NBA Playoff action – just load up the live game stream on your computer or mobile device and you're ready to start watching.
Don't miss out on any of the Playoff action. Log-in now and start watching for free!