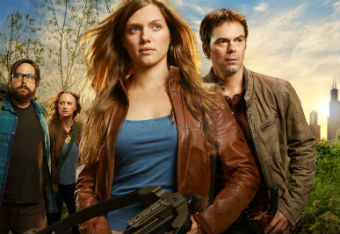 What would you do if all the electricity in the world suddenly went out? How would you cope? How would you even survive? What would you do to survive? This is the scenario and the exact questions that NBC's new science fiction drama 'Revolution' asks.
Tracy Spiridakos (Being Human) plays 'Revolution's protagonist Charlie, a strong willed woman who fights for her survival in this apocalyptic powerless hellscape. Her brother, Danny, is captured one day by militia men for an unknown purpose. In order to rescue Danny, Charlie must seek the help of her estranged uncle Miles, played by Billy Burke (The Twilight Saga). Miles is a former US marine who now lives as a recluse, and Charlie has to bring him out back into the light of day for his help.
Together, they team with a group of survivors who set out to rescue Danny and overthrow the militia, hoping to also re-established America, however difficult that may be.
JJ Abrams (Lost, Fringe) produces NBC's 'Revolution' along with Jon Favreau.
"Revolution" premieres on NBC on Monday, September 17th at 10/9c, but you don't have to wait until then to watch the first episode. You can watch the 'Revolution' pilot episode online for free, and FreeCast is here to help you do it. Just click the link above to go to the FreeCast Guide, and from there simply search for 'Revolution' start watching 'Revolution' online, absolutely free. After the TV premiere of 'Revolution' on NBC, head on over to FreeCast where you can find and watch full "Revolution" episodes online the day after they air on NBC, as well as thousands of your other favorite TV shows online.
FreeCast is absolutely free and it allows you to watch countless hours of TV episodes online from popular networks like NBC. You can watch FreeCast anywhere and any time, so what are you waiting for? Watch NBC's "Revolution" with FreeCast on your computer, mobile device, or even tablet device if you have one!
FreeCast is an awesome opportunity to watch all your favorite TV shows, and you don't have to worry about catching "Revolution" when it airs. Watch thousands of great TV shows right now completely free with FreeCast!