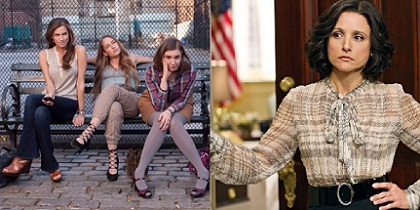 In the next two weeks, HBO will be rolling out its two newest original series 'Girls' and 'Veep', both of which have received pretty heavy praise from critics. You want to watch the premieres, but you don't have an HBO subscription.  You're out of luck, right? Wrong.
The premium cable network has recently announced that it will be giving everyone the chance to watch the pilot episodes of the two new shows for free. How, you ask? Well, they'll be using a little something called 'The Internet'.
(see schedule below for availability)

Following their premieres, the pilot episodes of both 'Girls' and 'Veep' will be available for free on HBO.com (free registration required) and Dailymotion, along with other various free on-demand platforms.
'Girls' (Premieres Sunday, April 15 at 10:30pm EST)
A show that follows the lives of four twenty-something girls as they try to make it in New York City
Available online for free from April 16 to May 14.
'Veep' (Premieres Sunday, April 22 at 10:00pm EST)
A comedy starring 'Seinfeld's Julia Louis-Dreyfus as the Vice President of the United States
Available online for free from April 23 to May 21.
Unfortunately, only the shows' pilot episodes will be available for free during this period, but HBO subscribers will still be able to watch every episode online with HBO GO, the network's streaming online platform.

Find and watch free episodes of all your favorite shows online with freecast.com, Your Personal Channel Guide!