Watch Packers vs Bears Thursday Night Football Live Online
Live streaming coverage of Chicago at Green Bay begins Thursday, Sept. 13 at 8pm ET.
Note: Complete in-game coverage is not available online
Online coverage includes LIVE in-game look-ins, expert analysis, play-by-plays, chat and stats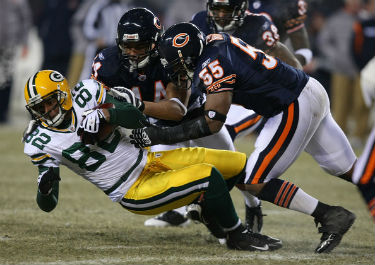 The first NFL Thursday Night Football game of the 2012 season will be between NFC East rivals, the Chicago Bears and the Green Bay Packers. Every time these two teams play, fans are sure to see an all-out battle on the football field.
Fortunately, with the help of FreeCast and NFL.com, you can watch live coverage of the Packers vs Bears online for free.
Just visit FreeCast's Live Events page online to start watching free live streaming coverage of the Packers vs Bears, beginning at 8pm ET.
NFL.com allows fans to watch Thursday Night Football game "live look-ins" online, as well as game "break downs" from the Thursday Night Football studio crew.
Don't miss out on this opportunity to watch Green Bay vs Chicago live online for free.
The Packers head into Thursday night's matchup against the Bears looking for their first win. Green Bay lost its first game of the season to the San Francisco 49ers at Lambeau Field and now it faces another incredibly tough defense in Chicago. The Bears easily won their week one matchup against the Indianapolis Colts, picking off No. 1 draft pick Andrew Luck three times in his NFL debut. Watch the Bears at Packers live online for free as Green Bay's Aaron Rodgers tries to lead his team to their first win of the 2012 season.
Chicago finally has a clear No. 1 receiver this season, thanks to the acquisition of Brandon Marshall in the offseason and this is certainly troubling news for opposing NFL teams like the Packers. Marshall and Bears quarterback Jay Cutler developed a chemistry together a few years back when they were playing together in Denver so it's not surprising that the two got off to a great start in week one. Against the Colts, Marshall brought in nine of Cutler's passes for 119 yards and a touchdown. Watch the Bears at Packers live online for free to see if Green Bay can limit Marshall's production.
The Packers could be playing this NFC East game without No. 1 wide receiver Greg Jennings, who left the week one game against the 49ers early with a groin injury. If Jennings doesn't play, look for Rodgers to rely heavily on wide receivers Jordy Nelson, James Jones and Randall Cobb as well as tight end Jermichael Finley. Watch the Packers vs Bears live online for free as Rodgers tries to get his team back on the right track.
Some defensive players on Chicago that could give Rodgers fits are cornerback Charles Tillman, linebacker Brian Urlacher and defensive end Julius Peppers. On the other side, watch for cornerbacks Charles Woodson and Tramon Williams to try and shut down Marshall while linebackers Clay Matthews and AJ Hawk try to get after Cutler. Watch the Bears at Packers online live for free to see who's defense will come out harder in this pivotal week two matchup.
To watch the Packers vs Bears live online for free, just check out FreeCast's Live Events page. There, you will find a direct link to the Bears at Packers live stream, which provides football fans with live look-ins and Thursday Night Football studio commentary from NFL experts.
Remember to visit FreeCast to watch Chicago at Green Bay live online for free, starting at 8pm ET.