Watch President Obama Slow Jam on Late Night with Jimmy Fallon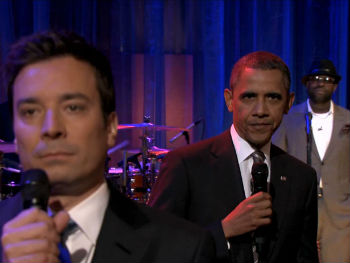 If you thought President Obama was cool already, wait until you see his most recent performance on 'Late Night' with Jimmy Fallon.
On Wednesday night, the President of the United States made history by being the first Commander in Chief to 'slow jam the news'. With backup from The Roots and Jimmy himself, Obama took the place of the usual 'news jammer' Brian Williams to deliver a message about his policy on student loans:
"What we said is simple: Now is not the time to make school more expensive for our young people."
Click 'Read More' to Watch the Video
Sure, it sounds like boring political stuff, but Barack's smooth demeanor combined with the cool beats of The Roots made for quite the performance. Jimmy Fallon even lent the president his support with some slow jams of his own:
"You should listen to the President, or as I like to call him, the Preezy of the United Steezy"
Obama's message was met with roars of applause from the mostly-college crowd in the 'Late Night' audience, who were more than supportive of the President's pro-student agenda.
Of course, you might say that Obama only did this to help boost his campaign, but you still can't deny that the guy's got style.
[iframe width="100%" height="480″ src="http://www.nbc.com/assets/video/widget/widget.html?vid=1398195″]