Watch Red Bull Stratos Free Fall Live Online
Live streaming coverage of Red Bull Stratos starts Sunday, Oct. 14 at 8am ET.
(Jump is now scheduled for Sunday, Oct. 14 at 8am ET pending optimal weather conditions).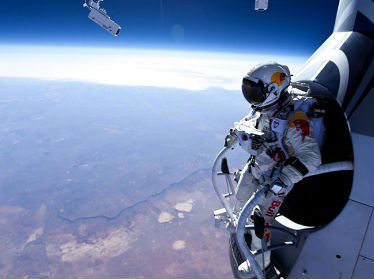 On Sunday, October 14 Austrian skydiver Felix Baumgartner will try to make history when he jumps from a stratospheric balloon and free falls from an altitude of 120,000 feet (23 miles). Baumgartner will reach supersonic speeds when he descends from the balloon before parachuting to the ground.
Of course, people all over the world will be looking to watch Baumgartner free fall from the edge of space live and what better place to do that than online at FreeCast. Just head to our Live Events page and click on the Red Bull Stratos link to start watching the Baumgartner free fall live online for free. Joesph Kittenger, a former captain in the US Air force, jumped from 102,800 feet back in 1960 and made 33 parachute jumps in his lifetime. He is now part of the team of aerospace medicine, engineering, pressure suit development, capsule creation and balloon fabrication experts working to make Red Bull Stratos a success. Watch Red Bull Stratos live online for free as Baumgartner breaks the free fall records held by Kittenger.
When he makes the jump, Baumgartner will be wearing a full-body pressure suit and helmet, which according to Orbital Outfitters who designed the suit, becomes a small spacecraft at such high altitudes. Be sure to watch Red Bull Stratos online live with FreeCast to see Baumgartner break the sound barrier when he reaches supersonic speeds.
Red Bull Stratos will be an incredibly exciting event to watch and thanks to Red Bull TV and FreeCast you can stream the supersonic free fall live online. Just visit FreeCast's Live Events page, where you'll see a link for the Red Bull Stratos live stream. Click on that link to start watching Red Bull Stratos online live for free right when Baumgartner starts ascending all the way to the edge of space, 120,000 feet up in the air.
If you're looking to watch the Red Bull Stratos free fall live but don't have a computer, there's no reason to worry. You can always watch the supersonic free fall live online for free through your tablet or mobile device.