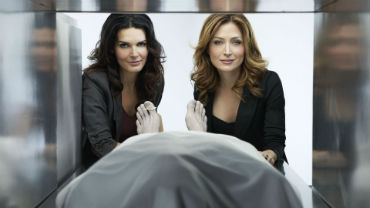 When 'Rizzoli & Isles' first premiered on July 12, 2010, it was watched by more than 7.5 million viewers and became the highest-rated premiere for a cable series that is supported by commercials.
Now in its third season 'Rizzoli & Isles' can be watched Tuesdays at 9 pm EST on TNT, or you can watch the hit series completely free online with FreeCast.
No longer are you forced to miss out on watching your favorite TV shows because a network's schedule doesn't coincide with yours, as our site allows you to watch free, full episodes of nearly every show online.
It's always primetime online with FreeCast, so if you missed a new episode of 'Rizzoli & Isles' or any other show, we'll help you find it and watch it online.
You can also use FreeCast to watch free online episodes of 'Rizzoli & Isles' through your mobile device.


'Rizzoli & Isles' In a Nutshell
Although detective Jane Rizzoli (Angie Harmon) and medical examiner Maura Isles (Sasha Alexander) are nothing alike, they form the perfect crime-solving pair in TNT's 'Rizzoli & Isles'. In the series, the tough, independent Rizzoli (the only female cop in Boston's homicide division) works with the brilliant and always well-dressed Isles, to crack Boston's biggest cases.

[iframe width="97%" height="480″ src="http://www.youtube.com/embed/_f6Ak4-Pf1o"]