Watch the 2012 Olympic Swimming Trials Online
With just four more days left in the 2012 Summer Olympic Trials, the pressure continues to build for all those athletes still looking to secure a 2012 Summer Olympics spot in their respective events.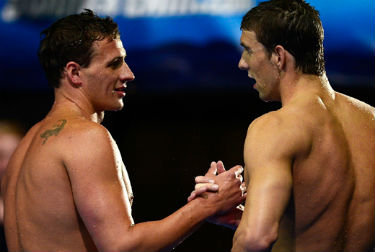 U.S. Swimming trials for the 2012 Summer Olympics in London, England pick back up on Friday and you can watch them on NBC, or watch free streaming coverage of all the Olympic trial events online. Friday's swimming trials are headlined by the two best swimmers in the world, Michael Phelps and Ryan Lochte facing off in the 200m individual medley.
Preliminaries for the 2012 Summer Olympic Trial event began Friday morning and you can watch coverage of heats (4:30-6 pm EST) and finals (8-9 pm EST) on NBC, or watch streaming coverage for free online with FreeCast.
Together, Phelps and Lochte have stolen much of spotlight in the 2012 Summer Olympic Trials for swimming. After Lochte took the 400m on the opening night (June 21) of the 2012 Olympic Trials, Phelps responded with a victory in the 200m freestyle on Wednesday.
Both swimmers have scratched the 100m freestyle on Friday night, which you can also watch streaming coverage of online, in order to get some extra rest and focus on their stronger events. However, Lochte advanced through the preliminaries and the semifinals before doing dropping the event. He is also participating in the 200m backstroke on Friday, another event that you can watch free streaming coverage online.
Among the swimmers who will be participating in the 100m freestyle of the 2012 Summer Olympic Trials are Jason Lezak, Ricky Berens, Cullen Jones and Garret-Weber Gale, who have all medaled in the Olympics before. Streaming online coverage will also be available to watch for free.
On the women's end, Allison Schmidt remains dominant after winning the 200-meter freestyle at 2012 U.S. Olympic Trials on Thursday. She also took the 400m freestyle. When the 2012 Summer Olympics arrive, she will be joined by 17-year-old Missy Franklin in the 200m.
Franklin also won the 100m backstroke and looks to continue a strong start in her early Olympic career after taking home five medals in last year's worlds.
For full coverage of all the swimming trials and all of the 2012 Summer Olympic Trials action, you can tune into NBC, or watch free streaming coverage online.