(Full broadcast coverage not available online. Live feeds include multiple on-board driver cameras)
Coverage begins Sunday, May 27, 2012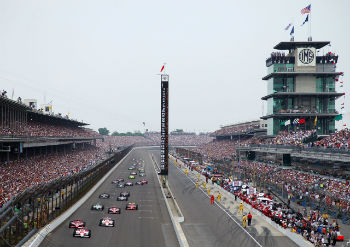 This Sunday, racing fans from all around the country will be gathering to watch "The Greatest Spectacle in Racing", the Indianapolis 500. Since 1911, the 500 mile, 200 lap race has been held at the Indianapolis Motor Speedway, and no other race is surrounded in so much tradition, legend, and history.
While most of those who can't make it to Indianapolis will be watching the Indy 500 on their televisions, some of us won't have that luxury. Luckily, ABC and ESPN are making it easy to watch the Indy 500 live online for free, and FreeCast is here to guide you to their streaming coverage of the race.
Click here to watch the 2012 Indianapolis 500 online and get access to over 80 variable camera angles.
The live online coverage of the 2012 Indianapolis 500 will include access to a number of on-board driver cams, and those watching online will be able to browse the available cameras with one click, giving online viewers complete control over their viewing experience. For this reason, many of those watching the race on their TVs will be using the free live stream as a second-screen, providing a more comprehensive Indy experience.
Live coverage begins Sunday morning, May 27, 2012 with the race scheduled to kick off at noon (EST).
Online coverage only available to U.S. ISPs