Watch Tigers vs Yankees Game 3 Live Online
Live coverage of Detroit vs New York Game 3 begins Tuesday at 8:30pm ET.
(Live streaming coverage of all MLB playoff games requires a $4.99 one-time fee.)
Note: MLB's Postseason TV package is available to US and Canada residents only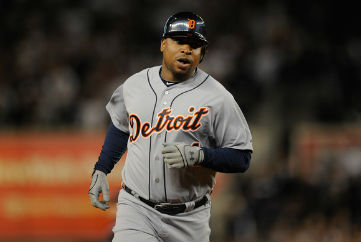 The ALCS is now Detroit's to lose as things couldn't be more in their favor heading into Game 3 against the Yankees. The Tigers' pitching has been phenomenal, Derek Jeter is out with a broken ankle and the most dominant pitcher in baseball, Justin Verlander, hasn't even pitched yet.
It's almost a must-win for Detroit because if New York can get a win against Verlander, they'll have a great chance to even the series when CC Sabathia takes the mound for Game 4.
Fortunately, baseball fans can watch this pivotal Game 3 between the Tigers and the Yankees live online thanks to MLB's Postseason TV package. After paying just $4.95 for the Postseason TV package, head to FreeCast and check out our Live Streaming Coverage Guide. There, you'll find links for all the ALCS games when they get set to stream live online. Be sure to visit FreeCast on Tuesday night at 8:30pm ET to watch the Tigers vs Yankees Game 3 live online.
The Tigers got huge boosts from Doug Fister is Game 1 and Anibal Sanchez in Game 2, both of whom pitched six or more scoreless innings. Detroit's staff, with the exception of Jose Valverde, has not allowed the Yankees to hit the long ball.
The fact that the Yankees don't actually hit well with runners in scoring position is getting completely exposed in the ALCS as Curtis Granderson, Robinson Cano and Alex Rodriguez continue to slump. Watch the Yankees vs Tigers live online with FreeCast to see if New York can snap out of it and get a crucial win.
Phil Hughes will take the mound for New York in Game 3 at Comerica Park as he looks to get the Yankees their first win in the ALCS. If he can pull it out, the Yankees have CC Sabathia to look forward to in Game 4. Watch the Yankees vs Tigers Game 3 live online to see if Hughes brings his best stuff.
Hughes will have his hands full against Miguel Cabrera, Prince Fielder, Delmon Young and the rest of the Tigers' high-powered lineup. He'll also be in a very hostile environment as Detroit fans know they're only two wins away from the World Series. Don't miss out on watching the Yankees vs Tigers Game 3 live online as the ALCS is still far from over.
The Yankees lineup has struggled throughout the entire playoffs and the loss of Jeter only makes things more difficult. While Yankees fans have probably grown accustomed to ARod's postseason struggles at this point, Cano and Granderson's slumps are downright demoralizing. Neither of these two has registered a hit so far in the ALCS and with Verlander taking the mound on Tuesday, things certainly won't get any easier. Watch the Tigers vs Yankees live online with FreeCast as Verlander tries to shut down New York's struggling lineup.
If you consider yourself a true baseball fan, you'll want to be sure to watch the Tigers vs Yankees online live when Game 3 gets under way on Tuesday night. All you have to do to watch New York at Detroit live online is visit FreeCast's Live Events page and click on the MLB – Detroit Tigers vs New York Yankees live stream link.
Start watching the Tigers vs Yankees Game 3 live online Tuesday at 8:30pm ET.