Watch USF vs Rutgers College Football Game Live
Live streaming coverage of Rutgers at USF begins Thursday, Sept. 13 at 7:30pm ET.
(Access to live streaming coverage of USF vs Rutgers may require authentication.)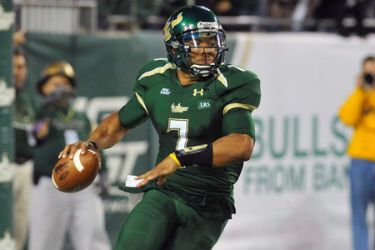 Thursday night's NCAA college football game will be between two Big East rivals, the USF Bulls and the Rutgers Scarlet Knights. Both teams are 2-0 coming into the contest, which will be held at 7:30pm ET at Raymond James Stadium in Tampa, Fla.
For all you college football fans out there eager to watch this Big East matchup, be sure to visit FreeCast.
On our Live Events page, you will find a link to high-quality, live-streaming coverage of USF vs Rutgers so you can watch the game live online, absolutely free.
While the USF Bulls have soared on offense through their first two games of the 2012 college football season, Rutgers has had to rely on its strong defense for wins. Rutgers quarterback Gary Nova has passed for just 288 yards and three touchdowns through the first two games.
Bulls quarterback BJ Daniels, on the other hand, has already thrown for 588 yards and six touchdowns to go along with one rushing touchdown. Watch USF vs Rutgers live online for free as Daniels looks to add to his already-impressive numbers on offense and lead the Bulls to a home victory.
The Bulls should feel good heading into their Thursday night matchup against Rutgers after pulling out a win on the road against Nevada on Saturday. Daniels hit wide receiver Andre Davis for a 56-yd touchdown with just 38 seconds left in that game to put USF up 32-31. It was one of two 50-yard touchdowns for Davis, who seems to have evolved into the team's No. 1 receiver. Watch USF vs Rutgers online live with FreeCast as Daniels and Davis try to build on their chemistry.
Though the Rutgers Scarlet Knights have been far from impressive on offense so far this season, their defense is nothing to play around with. They held Tulane to just 12 points in week one and shut out Howard last week. Now, their No. 4-ranked defense (in points against) will face a tough USF offense that ranks 25th in passing yards per game.
Be sure to watch Rutgers at USF live online for free and find out if Rutgers can prevent big plays from the likes of BJ Daniels, Andre Davis and running backs Demetris Murray and Lindsey Lamar.
When the USF vs Rutgers NCAA football game streams live online for free, watch for the Bulls to focus on shutting down the Scarlet Knights' running game. Jawan Jamison, Rutgers' lead back has tallied up 222 rushing yards so far this season on just 28 carries (7.9 yards/carry) and the Scarlet Knights should continue to rely on the ground game to generate most of their offense.
If you consider yourself a true college football fan, you'll definitely want to watch Rutgers at USF live online for free as these two Big East foes battle it out for the top spot in the conference.
To watch free live streaming coverage of the Rutgers at USF NCAA football game online, just visit FreeCast and head to our Live Events page. There, you will find a direct link to the USF vs Rutgers live stream online. Also, if you don't have a computer, you can always watch USF vs Rutgers live online for free with your tablet or mobile device.
The Bulls vs Scarlet Knights college football game starts Thursday night at 7:30pm ET, so be sure to Visit FreeCast's Live Events page to watch it live online for free.