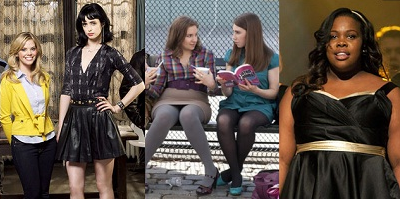 Spring is in the air, and the weather is beautiful, but who cares? There's too much TV on this week to worry about what's going on outside, so close the windows, drop the shades and get settled in your favorite recliner for FreeCast's list of weekly TV recommendations.
This week, we'll be looking forward to some exciting premieres, including ABC's 'Apartment 23', the return of Fox's 'Glee', and HBO's 'Girls', but that's not all this week has to offer. Check out our full list of recommendations below:
(All Times are EST)
Monday
NewNowNext Awards (10:00p on LOGO)
Not exactly the Academy Awards, but still a fun time for anyone interested in pop culture.  This year's show will be hosted by Kelly Osbourne and will feature performances by Adam Lambert and other popular artists.
Season Premiere of 'Anthony Bourdain: No Reservations' (9:00p on Travel Channel)
Sure, it's been eight seasons, but Anthony Bourdain still has one of the most interesting shows on television (not to mention one of the best jobs in the world).  As usual, this season includes a diverse set of destinations, including everything from Kansas City to Mozambique.
Tuesday
Midseason Premiere of 'Glee' (8:00p on Fox)
After a seven week hiatus, 'Glee' is finally back in action, and it couldn't have come any sooner.  The last episode ended with plenty of cliffhangers, so fans of the show should expect some answers to their questions on Tuesday's return.
Season Finales of 'Justified' (10:00p on FX) and 'Body of Proof' (10:00p on ABC)
Both moderately popular shows will be airing their exciting conclusions at the same time on Tuesday, so viewers who are fans of both may have a difficult choice ahead of them.  But don't worry, both will be available online the following day.
Wednesday
Series Premiere of 'Don't Trust the B—- in Apartment 23' (8:30p on ABC)
This new sitcom features a girl from the Midwest (played by Dreama Walker) who moves into a New York apartment with a party girl (Krysten Ritter) who also happens to be friends with James Van Der Beek (played by himself).  It won't be winning any originality contest, but it could be entertaining nonetheless.
Season Finale of 'Psych' (10:00p on USA)
This show has such a loyal fan-base that we didn't really need to tell any of them about the finale this Wednesday, but if you've never seen the show before, it couldn't hurt to tune in for this week's closer.
Thursday
Season Finale of 'Up All Night' (9:30p on NBC)
No one was sure what to expect from this star-studded comedy about the hardships of having a new baby, but after a full season the show has certainly fleshed itself out into one of the better comedies on TV.  Still haven't seen it yet?  Well, you can prepare for the Season 1 finale by watching full episodes here.
Friday
Series Premiere of 'The Legend of Korra' (11:00a on Nickelodeon)
Fans of the hit Nick show 'Avatar: The Last Airbender' have finally had their prayers answered with this continuation of the 'Avatar' plotline.  In this installment, Aang has lived and died, and the responsibility of saving the world falls on the new avatar, Korra.
Sunday
Series Premiere of 'NYC 22' (10:00p on CBS)
Another cop drama.  Maybe there's some kind of twist to make it interesting?  Who knows?
Series Premiere of 'Girls' (10:30p on HBO)
This new show will follow the lives of a small group of friends as they try to make it in New York City.  It might sound like it's been done before, but given HBO's track record for quality programming this show should be worth a watch.