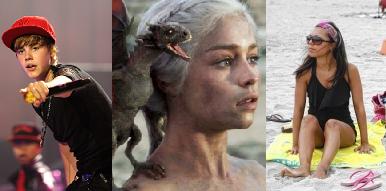 Things are really starting to heat up this week in TV. Last night, die-hard fans around the country tuned in for the long-awaited season premiere of 'Mad Men', and next Sunday brings even more excitement with the premiere of the second season of the HBO hit 'Game of Thrones'.
So, how do you manage to survive the whole week without going insane with anticipation? Believe it or not, there's actually a lot of good stuff on TV this week to keep you occupied until Sunday.
Check out our list of weekly recommendations to find out what to watch to help pass the time:

All Times are EST.
Monday
Season Finale 'Alcatraz' (9pm on Fox)
Not exactly a smash hit, but the story has developed enough in the first season to keep viewers interested.  Tune in for the 2 hour premiere to see if Doc and Rebecca get any closer to the truth.
Series Premiere of 'Brooklyn 11223' (11pm on Oxygen)
Kind of like Jersey Shore, but in Brooklyn Bay Ridge Area.  That's all you need to know.
Season Premiere of 'Make It or Break It' (9pm on ABC Family)
The Olympics are coming up, so you can bet there's going to be plenty of heavy competition among the girls.  This editor is guessing that this season will be more 'break it' than 'make it'.
Tuesday
Series Premiere of 'Best Ink' (10pm on Oxygen)
Hosted by former 'American Idol' contestant Kimberly Caldwell, this reality show pits top tattoo artists against eachother for a $10,000 prize.
Wednesday
Season Finale of 'Whitney' (8pm on NBC)
Whitney and Alex get married…oh wait, no they don't.
Thursday
Series Premiere of 'Mary Mary' (10pm on WE)
GRAMMY-winning soul-singers Erica and Tina Campbell travel around the U.S., no doubt getting into trouble and having some amazing working mom adventures.
Series Premiere of 'The Pauly D Project' (10:30pm on MTV)
Jersey Shore's Paul DelVacchio (Pauly D) is a DJ?  You don't say.  I bet he's amazing.  This spinoff is sure to be a smash hit…
Season Premiere of 'Punk'd' (10pm on MTV)
After 5 years, the MTV prank show is finally back, but this time instead of a single host there'll be a different celebrity host every week.  Up to bat this week is inexplicable superstar Justin Bieber.
Friday
Season Finale of Merlin (10pm on SyFy)
Camelot is captured by Helios and Morgana. Will Arthur be able to stop them?  Probably.
Sunday
Season Premiere of 'Game of Thrones' (9pm on HBO)
If you've watched season 1, you know how huge this is.  If you haven't, go watch it now.
Season Premiere of 'The Killing' (9pm on AMC)
Not quite as popular as Game of Thrones, but a refreshing take on the gritty homicide investigation genre, definitely worth a watch if you're into that sort of thing.