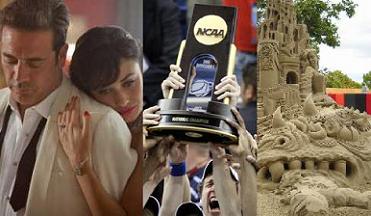 It's a great week for sports fans. Not only will Kansas and Kentucky be facing off tonight for the NCAA Tournament Championship, but Wednesday marks the opening day for Major League Baseball, and the 2012 Masters Golf Tournament kicks off the following day. Aside from that, there are some minor finales and premieres to fill in the gaps.
Check out our list of weekly recommendations to make sure you know when and where to watch all of this week's quality programming:

All Times are EST.
Monday
2012 NCAA Basketball Tournament Final (9:00p on CBS)
The 2012 Tournament is finally coming to an end, and we couldn't have hoped for a better matchup than the Jayhawks and the Wildcats. Tune in to see how it all ends.
Season Premiere of 'Adventure Time' (7:30p on Cartoon Network)
More for the youngsters than for adults, but still as absurd as ever.
Tuesday
Season Finale of 'Dance Moms' (9:00p on Lifetime)
For those who can't help but cringe when they hear the words 'dance moms', the suffering will finally be over…for now.
Series Premiere of 'Dance Moms: Miami' (10:30p on Lifetime)
…Or will it?  Right when it seems we'll get a break from the insanity that is 'Dance Moms', Lifetime slaps us with a Miami-based spinoff that's sure to be just as disturbing.
Series Premiere of 'Savage U' (11:00p on MTV)
Sex expert (in theory) Dan Savage tours college campuses talking to students about sex. Hilarity ensues.
Wednesday

MLB Opening Day (7:00p on ESPN)
This season starts with last years champs, the St. Louis Cardinals, heading down to Miami for what's sure to be a memorable showdown.
Season Premiere of 'Betty White's Off There Rockers' (8:00p NBC)
Kind of like 'Punk'd' but with old people.
Season Premiere of 'Best Friends Forever' (8:30p on NBC)
A recent divorcee moves back to Brooklyn to live with her old friend, but wait, her friend's got a live-in boyfriend?  Sounds like trouble.
Thursday

Masters Tournament 2012 (3:00p on ESPN)
Like golf?  Then you probably already knew that the Masters kick off on Thursday. 
Series Premiere of 'Sand Masters' (9:00p on Travel Channel)
In what's set to be the greatest television series of all time, a bunch of dudes build elaborate sandcastles to prove who's the best sandcastle builder.  What a great era of television we live in.
Friday

Series Premiere of 'Magic City' (10:00p on Starz)
This new Starz show follows the example of  'Mad Men', which proved that TV viewers love romanticized depictions of the 1950s.  The show follows the owner of a luxury hotel in 1950s Miami Beach, and based on the previews it might actually be good.