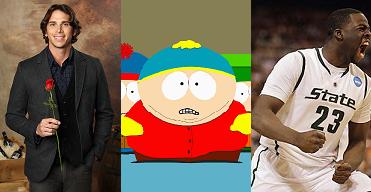 This week is an exciting one in the world of television. Not only does it mark the beginning of the biggest month in sports, March Madness, but the week is loaded with a number of highly anticipated premieres (including the return of 'South Park') along with the season finale of 'The Bachelor'.
Check out our list of must-see programs for the week to make sure you don't miss any of the action:

'The Bachelor' Finale (Monday at 8:00p EST on ABC)
It's the moment reality TV fans have been waiting for for months. Will Bachelor Ben Flajnik choose Courtney Robinson or Lindzi Cox? Or will he simply walk away with no proposal. Tune in on Monday to find out.
March Madness Kicks Off (First Game starts Tuesday at 6:30p ESt on TruTV)
The brackets are set, the teams are ready to go, which means March Madness has begun. The action kicks off on Tuesday with Western Kentucky vs. Mississippi Valley. The action will be aired on TruTV, but fans can also watch online via freecast.com or through our Facebook app.
See our full schedule for more info about game times and matchups.
South Park Returns (Wednesday at 10:00p EST on Comedy Central)
The kings of unscrupulous comedya re back at it with the premiere of their 16th season. Tune in to Comedy Central on Wednesday night to see just how far they take it this time.
Other Premieres
In addition to the South Park premiere, be sure to catch the series premiere of the new ABC show 'Missing' (Friday 8:00p EST) along with season premieres of 'Fairly Legal' (Friday 9:00p EST on USA) and 'In Plain Sight' (Friday 10:00p EST on USA).
So, there you go, you've got no excuse to miss any of the week's action, and even if you can't catch it on TV, all of the episodes listed will be available the following day for free on freecast.com for your viewing pleasure.