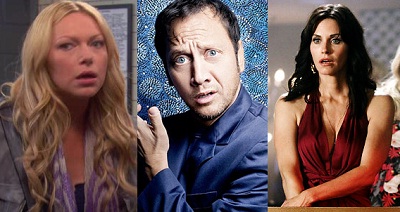 It's that time of year again; major networks are cleaning house to make room for their newest series, and that means many of your favorite shows may be getting cancelled.
Check out our list below to find out which broadcast shows will be coming back next year and which ones will be getting the axe.
CBS

As you may have guessed, CBS's powerhouse shows 'Big Bang Theory' and 'How I Met Your Mother' will remain untouched, but 'Two and a Half Men' will be moving to a new time.  Also being renewed are 'Blue Bloods', 'Person of Interest' and '2 Broke Girls' among others. All cancelled shows are listed below, so if your show isn't on the list it's safe for now:
Cancelled:
How to Be a Gentleman
A Gifted Man
CSI: Miami
NYC 22
Rob
Unforgettable
ABC
ABC was hit-or-miss this year in the ratings department.  New series 'Once Upon a Time', 'Revenge', 'Suburgatory', 'Scandal' and 'Don't Trust the B—- in Apartment 23' managed to make the cut and have been renewed for next year, but many of their fellow shows weren't so lucky.  Cult favorite 'Cougar Town' finally got dropped, but luckily for fans of the show it will be picking back up again on TBS.
Cancelled:
Desperate Housewives (Final Season)
Charlie's Angels
Man Up!
Extreme Makeover: Home Edition
Work It
Cougar Town (Moved to TBS)
The River
Pan Am
GCB
Missing
NBC
There's no getting around it: NBC had a pretty bad year in ratings, and that's probably why they're cancelling more shows than any other network.  Of their new shows, only 'Smash', 'Up All Night' and 'Grimm' will be getting renewed.  'Community' was on the bubble, but thanks to a strong fan response it will be continuing for at least one more season.
Cancelled
Free Agents
The Playboy Club
Prime Suspect
Awake
Chuck (Final Season)
Best Friends Forever
Bent
The Firm
Are You There Chelsea?
Harry's Law
Fear Factor
The Marriage Ref
Minute to Win It
The Sing-Off
Who Do You Think You Are?
Fox

New shows 'Raising Hope', 'New Girl', 'Fringe' and 'Touch' managed to make the cut this year for Fox, but the wildly unpopular 'Napoleon Dynamite' is currently on the bubble (and it's not looking good).  Aside from that, none of the network's new series will be seeing another season.
Cancelled
Terra Nova
Alcatraz
The Finder
Allen Gregory
Breaking In
I Hate My Teenage Daughter
House (Final Season)
The CW
Though it's not quite as popular as the other broadcast networks, The CW is still killing the ratings with a combination of old and new shows with loyal fan bases.  Expect more 'Hart of Dixie', 'Nikita' and '90210', and the network's biggest hits 'Supernatural' and 'The Vampire Diaries' are still going strong.
Cancellations
H8R
One Tree Hill (Final Season)
The Secret Circle
Ringer
Did your show make the cut? Let us know how you feel about the recent cancellations by leaving a comment below.