Some of the world's best athletes were honored and made fun of last night as comedian Rob Riggle hosted the 2012 ESPYs in Los Angeles.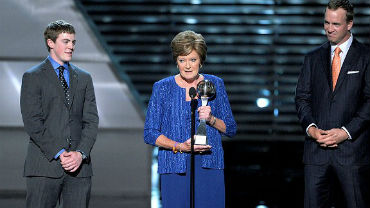 Riggle, formerly of 'The Daily Show', cracked on Anthony Davis' famous unibrow, Drew Brees' long-term contract issues with the New Orleans Saints and the entire city of Cleveland for having such bad luck with hanging on to superstar athletes.
Brees, who took home the ESPY for Record-Breaking Performance of the Year (broke Dan Marino's single-season passing record), wasn't amused by Riggle's implications of using a bounty fund to help pay for a new contract.
Lebron James was the big winner of the night, earning ESPYS for Male Athlete of the Year, NBA Player of the Year and Championship Performance of the Year. The Miami Heat also won Team of the Year after winning the 2012 NBA Finals against the Oklahoma City Thunder.
One could certainly argue that the Kentucky Wildcats were more deserving of the award, considering they dominated the 2012 college basketball from start to finish and saw a record-tying six players get taken in the 2012 NBA Draft. Not to mention they had the best player in the nation in Anthony Davis.
James and the rest of the U.S. national basketball team were not present at the 2012 ESPYs, as they were in Las Vegas preparing for the 2012 Olympic Games.

The main highlight of the night occurred when legendary Tennessee women's basketball coach Pat Summitt was honored with the Arthur Ashe Courage award. A touching video was played in which several coaches and former players and staff members under Summitt paid tribute to her for her outstanding accomplishments both as a coach and a person.
Summitt stepped down as the women's basketball coach at Tennessee after being diagnosed with early-onset Alzheimer's last August. Summitt, one of the greatest and influential coaches of all time in any sport, was very grateful for everyone's support.
Another heart-felt moment came when Eric LeGrand, the former defensive tackle for Rutgers who suffered a career-ending spinal cord injury, was given the Jimmy V Award for Perseverance. LeGrand continues to inspire everyone around the sports world with the incredible progress he has made since the injury.
The Arthur Ashe Courage award and the Jimmy V Award for Perseverance really encompass what sports are all about; displaying strong character while performing at a high level.
The 2012 ESPYs summed up an exciting, record-breaking and controversial year in sports that will not soon be forgotten.
Who Else Won at the 2012 ESPYs?
NFL Player of the Year– Aaron Rodgers (Green Bay Packers)
MLB Player of the Year– Josh Hamilton (Texas Rangers)
NHL Player of the Year– Jonathan Quick (Los Angeles Kings)
MLS Player of the Year– David Beckham (Los Angeles Galaxy)
Driver of the Year– Tony Stewart
Fighter of the Year– Floyd Mayweather, Jr.
Male Golfer– Bubba Watson
Male Tennis Player– Novak Djokovic
Female Tennis Player– Maria Sharapova
Male College Athlete– Robert Griffin III (Baylor)
Best International Athlete– Lionel Messi of FC Barcelona and Argentina
Male Action Sports Athlete– Shaun White (for skateboarding and snowboarding)
Breakthrough Athlete of the Year– Jeremy Lin (New York Knicks)
Female Athlete of the Year– Brittney Griner (Baylor)
Game of the Year– San Francisco 49ers' 36-32 win over the New Orleans Saints in the NFC Divisional playoff game.
Best Moment– Tim Tebow's 80-yard, game-winning touchdown pass to Demaryius Thomas against the Pittsburgh Steelers in the NFL playoffs.
Biggest Upset– Los Angeles Kings, who won the Stanley Cup against the New Jersey Devils after starting the playoffs as the eighth seed.
Best Comeback– Matt Stafford (Detroit Lions)
Jockey– Mario Gutierrez
Bowler– Sean Rash
Track and Field Athlete– Walter Dix
Female Action Sports Athlete– Jamie Anderson (snowboarder)
College Athletic Program– Stanford women's athletics and Florida men's athletics
Coach/Manager of Year– Tom Coughlin (New York Giants)
Male Athlete with a Disability– Kyle Maynard (climbing)
Female Athlete with a Disability– Jessica Long (swimming)