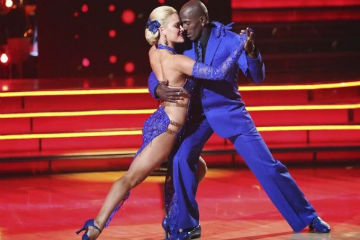 This season of 'Dancing With the Stars' has been full of excitement, disappointment, and even a few injuries, but last night a winner was finally crowned. And the winner is…Donald Driver.
The wide receiver for the Green Bay Packers has been wowing the judges since he first set foot on the stage, but his freestyle moves last night with partner Peta Murgatroyd put him above and beyond the other contestants.
Opera singer Katherine Jenkins, who was a judge favorite for most of the season, took second place, and Latin novella star William Levy ended up in third.  While both of these contestants could have potentially been the 'Dancing with the Stars' winner, it was the freestyle competition that solidified their competitor Donald Driver as the true victor.
Before the big winner was announced, last night's episode featured performances by Kelly Clarkson and former 'Dancing' star Gladys Knight.  For even more filler prior to the big announcement, each of the seasons' former competitors returned for one final performance.
When it came down to it, Driver's strength and athleticism were what got him the coveted mirror ball trophy. Though you might not think of a professional NFL player as a dancer, his muscle control and endurance gave him a clear advantage over the other contestants, and although he wasn't the judges' favorite, he was clearly America's.
Do you think the best contestant won? Let us know what you think by leaving a comment below.
Log-in or Register Free to Watch the Full Episode Now!