Yankees vs Orioles Game 5 Live Online
Live coverage of Baltimore vs New York Game 5 begins Friday at 5:07pm ET.
(Live streaming coverage of all MLB playoff games requires a $4.99 one-time fee.)
Note: MLB's Postseason TV package is available to US and Canada residents only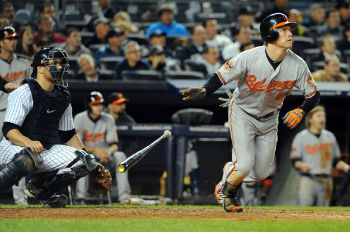 It took 13 innings but the Baltimore Orioles managed to keep their season alive Thursday night as they defeated the New York Yankees 2-1 to even the series. The AL East division rivals have gone back and forth all season so it's only appropriate that it has come down to win-or-go-home game for both teams.
The winner of Game 5 will advance to the ALCS to take on the Detroit Tigers, who closed out the Oakland A's on Thursday.
The Yankees vs Orioles Game 5 could very well be the most exciting 2012 postseason game yet and that's saying something. That's why you'll want to be sure to watch it live from start to finish. To watch the Yankees vs Orioles live online, baseball fans merely have to pay a one-time fee of $4.95 for MLB's Postseason TV package, which includes full live coverage of nearly every other MLB playoff game. After covering that fee, you'll be able to start watching the Orioles vs Yankees live online by clicking on the MLB Postseason live stream link.
The last two games of the New York vs Baltimore series has gone to extra innings and no team has won back-to-back games. The Yankees won Game 3 thanks to Raul Ibanez's game-tying and game-winning homers and JJ Hardy doubled off the center field wall in the 13th last night to score Manny Machado, who doubled to lead off the inning. Make sure you watch the Orioles vs Yankees Game 5 live online with FreeCast as it could be another close, extra-inning game.
CC Sabathia will make his second start of the ALDS after pitching 8 2/3 innings in a 7-2 win in the first game of the series. Sabathia is 6-1 in 11 playoff starts with the Yankees and has held opposing lineups to a .199 average at home this season.
Sabathia will go against Baltimore's Jason Hammel, who lasted just 5 2/3 innings and surrendered two earned runs in Game 1 of the ALDS. Watch the Yankees vs Orioles Game 5 live online to see if Hammel can bounce back and beat one of the best pitchers in baseball in Sabathia.
While Derek Jeter and Mark Teixeira have been solid so far at the plate this postseason, Curtis Granderson and Robinson Cano haven't been themselves. Cano went 0 for 6 last night and is hitting .111 in the series. Granderson is hitting .063 after going 0 for 5 and striking out three times last night.
Alex Rodriguez is also struggling but that's come to be expected of the $300 million man in the playoffs (with the exception of 2009). Watch the Yankees vs Orioles Game 5 online live as Granderson and Cano try to help launch New York into the ALCS.
Many hitters in the Baltimore lineup have struggled against New York in this series as well but a few timely hits and great pitching has kept them in it. Left fielder Nate McLouth, who is one of just three Orioles players hitting .300 or better in the playoffs so far, homered in the fifth inning of Game 4, then made a spectacular catch against the left-field wall to save a run in the bottom of the inning. Watch the Orioles vs Yankees Game 5 live online as Baltimore tries to get its bats going and finish off New York.
Remember to visit FreeCast to watch the Yankees vs Orioles Game 5 live online as soon as the MLB playoff game gets under way Friday at 5:07pm ET.